Remodeling For a Healthy Home
In a world post-Coronavirus, people are more conscious of the places that they eat, play, work, and live in. Due to an increasing interest in healthy living manufacturers and contractors alike are researching, developing, and offering a new standard of product, like the touchless faucets mentioned in this article, that promote a safer and cleaner lifestyle. As the world adapts and navigates a new way of living, one thing is certain: "Clean" is the focus of millions of people. 
It's been over 30 years since the first motion sensor touchless faucets started to appear in the real world. However, when times were simpler the purpose behind this new technology was to save money by minimizing water and energy loss. Most people have, one time or another, walked into a bathroom or kitchen to discover that the sink was left on or not shut off all the way. Over the years, the infrared technology, quality, and capacitors that control the valves have vastly improved so you aren't standing there adjusting your hands for two minutes in order to get enough water to rinse all the soap off. 
Touchless Faucets Technology
Delta Faucets were the earliest adopters on this idea back in 2006. They were one of the first to introduce touch faucets, where elbow and arm taps trigger the on and off valve. Eventually they strengthened that technology to the point where hands-free capabilities occur where motions are made anywhere within 4 inches of a faucet. What people once thought was a neat and convenient perk, is now a feature that could save lives! Fast forward about five or six years, Google and Amazon forever changed the game when they introduced voice activation to home devices. Now, you can ask your devices to lock doors, turn lights on and off, announce the weather, and play music; just to name a few. 
Before COVID-19, The Kohler Company commissioned a Harris Poll that uncovered nearly half of all Americans are interested in upgrading their bathroom to include a touchless faucet. For consumers aging from 35 to 44, it was 58%. After a global pandemic was declared, suddenly washing your hands became the most important thing you could do. Not only that, but people started to pay attention to everything they did touch, and how dirty those spaces might actually be. Hence why American Standard saw a 128% increase in searches for hands-free products. 
The most innovative of touchless faucets can be turned on by a voice command, operated per CDC guidelines it will turn off water for 20 seconds while you scrub then turn the water back on to rinse! Fill up a pot of water without touching the faucet once, or request a specific measurement and temperature with ease.
So, with all this in mind – let's take a look at some touchless faucet options available for your kitchen remodel or bathroom remodel. 
Popular Kitchen and Bathroom Handsfree Faucets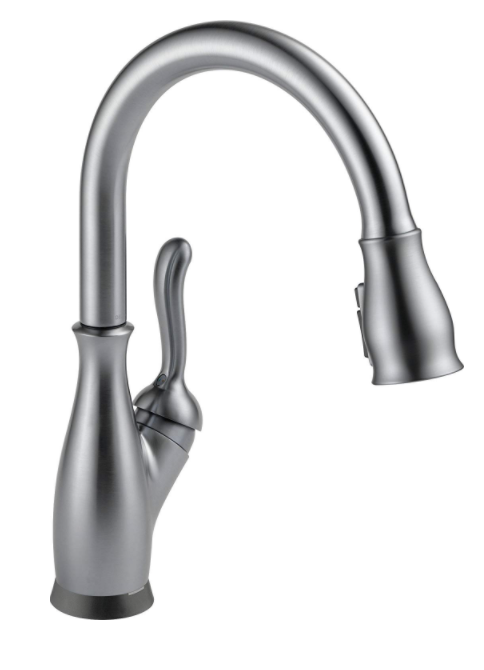 Touch2O technology activates by touching anywhere on the spout
Diamond Seal technology protects against leaks for the lifetime of the product
Shieldspray technology blasts away the toughest of dish stains
Optional A/C adapter saves you money on batteries
Buyers have the option of the advanced Touch2O system or the cheaper Standard edition
Mineral build up is blocked thanks to Delta's Touchclean technology
TempSense LED light, this faucet shows you the temperature of the water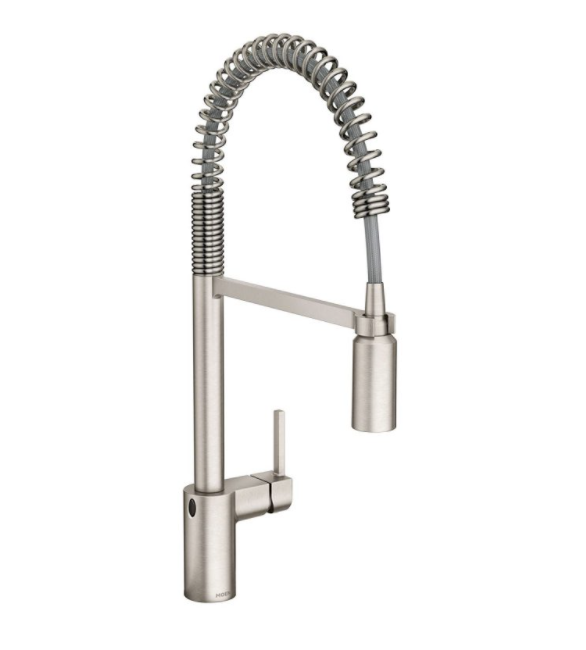 For use in larger homes that need more power from their faucet. It is particularly useful in areas where the water pressure makes it difficult to properly clean dishes. With such a powerful spray, there is no task that it can't handle.
Sensor is in a perfect position and won't accidentally trigger
Power clean spray technology makes it the most powerful spray on the list
Hose is flexible and can be pulled in multiple directions with ease
Works with 1- or 3-hole setups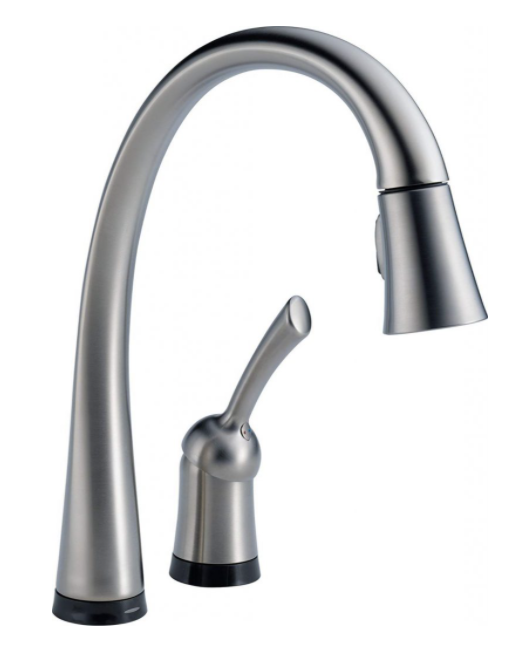 The Pilar is for traditional kitchens but can still be a good fit in modern settings. It uses Touch2O so is a nice middle ground between motion sensing and traditional kitchen faucets.
Both the magnets in the spray head and the valve materials are built to last for years without any wear on the individual parts. Whether using the 2- or 4-hole install method, it meets compliance with the ADA.
Users will love the freedom of the 59-inch hose that lets you move wherever you want in your kitchen without limitations. 
The faucet swivels a full 360 degrees, which is ideal for both small and big sinks to give you the room you need.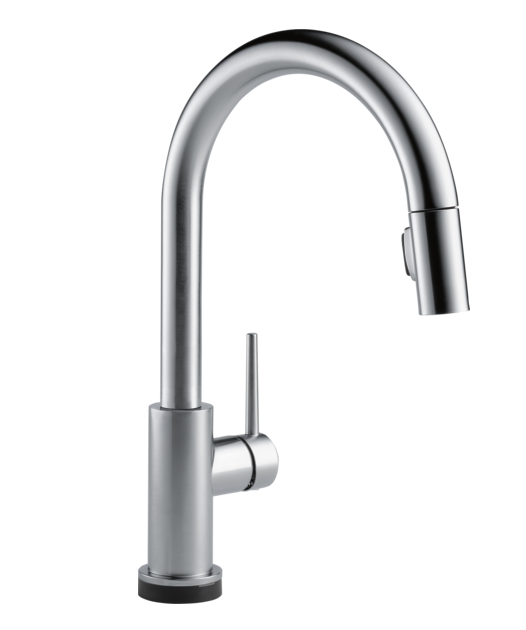 TRINSIC® VoiceIQ™ Single-Handle Pull-Down Kitchen Faucet with Touch2O® Technology
Voice Activation can turn the water on and off, pour specific amounts, and even warm up using your voice enabled device
Hand wash feature provides the proper timing for lathering, scrubbing, and rinsing your hands
Touch anywhere on the kitchen spout with your wrist or forearm to start and stop the flow of water or use the single handle manually
Check your water temperature from across the room using the TempSense® LED indicator light that changes color to reflect water temperature
The high-arc, gooseneck design swivels 360 degrees with a 20-in. retractable hose for added convenience during everyday kitchen tasks
Soft, rubber Touch-Clean spray holes allow you to easily wipe away calcium and lime build-up with the touch of a finger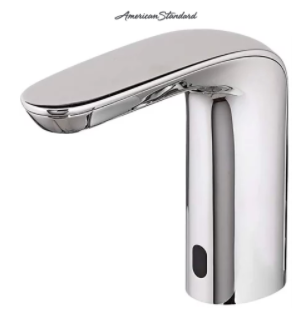 American Standard Touchless Bathroom Faucet with Temperature Control
This NextGen Selectronic Commercial Faucet from American Standard also includes an above-deck mixing handle, allowing the user to adjust the water temperature to their liking. 
This faucet has a sleek, clean design that brings elevated style to the bathroom. The integrated electronics locates the sensor, battery and solenoid valve in the faucet spout and eliminates the need for a control box.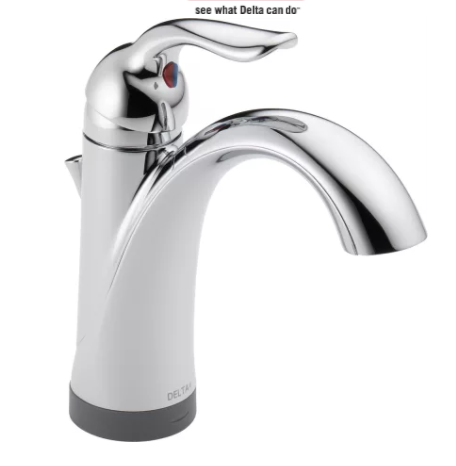 Lahara Single Hole Bathroom Faucet with On/Off Touch and Proximity Sensor Activation
Single-hole or 3-hole installation (optional deck plate included)
Delta Touch2O Technology: touch bathroom faucet on, touch it off
Delta faucets with DIAMOND Seal Technology last 2X longerLow lead compliant – complies with federal and state regulations for lead content
Designed to easily connect to standard U.S. plumbing supply bibs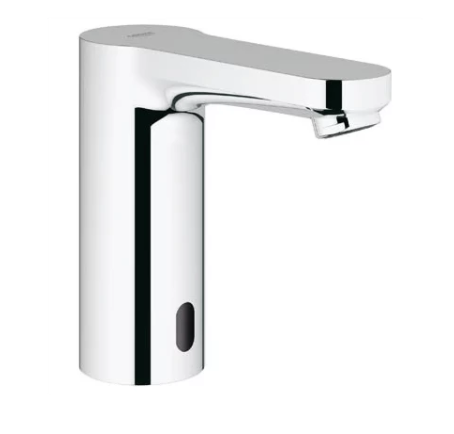 Grohe Eurosmart Touch-Free Bathroom Faucet with Concealed Temperature Control - Less Drain Assembly
GROHE's E touch-free electronic faucets are built to withstand the rigors of commercial installations; engineered to utilize state-of-the-art battery and microelectronics technology; and designed to appeal to aesthetic sensibilities as well. 
Water is activated via an infrared electronic motion activation sensor. Battery operated (includes lithium battery 6 V, CR-P2). Optional remote control accessory (36407000), sold separately. Suitable for residential or commercial applications. ADA compliant.
Remodeling your kitchen or bathroom?
Call Norway Built today!