Hardwood Flooring Alternatives
In the past options for flooring were relatively limited to carpet, tile, or wood. Whereas today buyers are faced with more options than ever before. With advancements in technology, manufacturers have been able to come up with hundreds of ways to provide new and similar looks with different materials. Moreover, these options typically require half the maintenance too! Real hardwood floors are always popular, and have continued pretty steadily with sales even as the style and stain trends have changed over time. Catalina Research noted that in 2018 the U.S. hardwood flooring market (including engineered hardwood) decreased by 3.7%. Laminate flooring saw an even bigger decrease in sales. On the other end, luxury vinyl tile saw a rise in sales.
What type of flooring is most popular now?
It doesn't take an LL Flooring employee to make anyone aware consumer tastes have been shying away from carpet for years now. Overall, people are ripping out carpet and opting for hard surfaces instead. Flooring that resembles or mimics the look of real wood is really driving the market today. People are gravitating towards neutral flooring options with beige, grey, and sand colors. A natural white oak, whitewash oak, or light grey has been seeing an uptick in recent trends as a beach-y rustic vibe has been really popular across the board. That being said, it really depends on the person and the asethic inside the home. Some may come in looking for a certain type of wood species or they may look for a color or look to the flooring. 
Our team has found when it fits in the budget people do love to put down real hardwood floors, but it is always good to explore your options. In favor of hardwood, they are meant to last a lifetime so you can re-stain as your tastes change over the years. They add significant overall value to the home for that reason. However, depending on the look you want to achieve hardwood may not be the best fit. Keeping in mind, hardwood is cut from a tree so it is a little more limited in options based on length and width. Moreover, this type of flooring does create some maintenance over the years.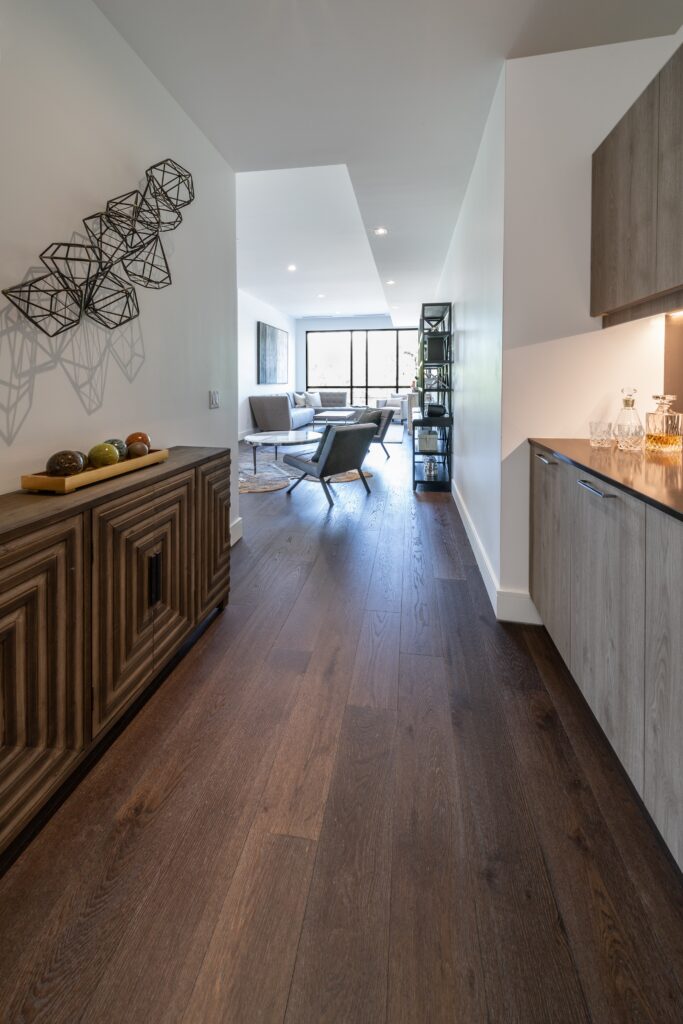 Some common concerns that are brought up revolve around installing hardwood in a wet area, avoiding color fade, wear and tear in highly trafficked areas, and cleanliness. Side note: Never attempt to DIY your hardwood floors. They will expand and contract between different climates and seasons. a professional installer is highly trained to lay it so that your floors will work with changing environments and not against it!
Alternatives to hardwood floors
Usually, engineered wood is the first go-to when solid hardwood flooring isn't an option. An engineered wood floor is constructed of layers of both hardwood and plywood, whereas solid hardwood is a solid piece of wood with no layers. This makes it a more cost effective alternative. It's unique construction creates a barrier that prevents warping in moisture. Because of this, engineered products might be appropriate in below-grade areas, like the basement or even in bathrooms, as their laminated base provides extra stability. Next to that, engineered hardwood is also more durable providing easy care and maintenance.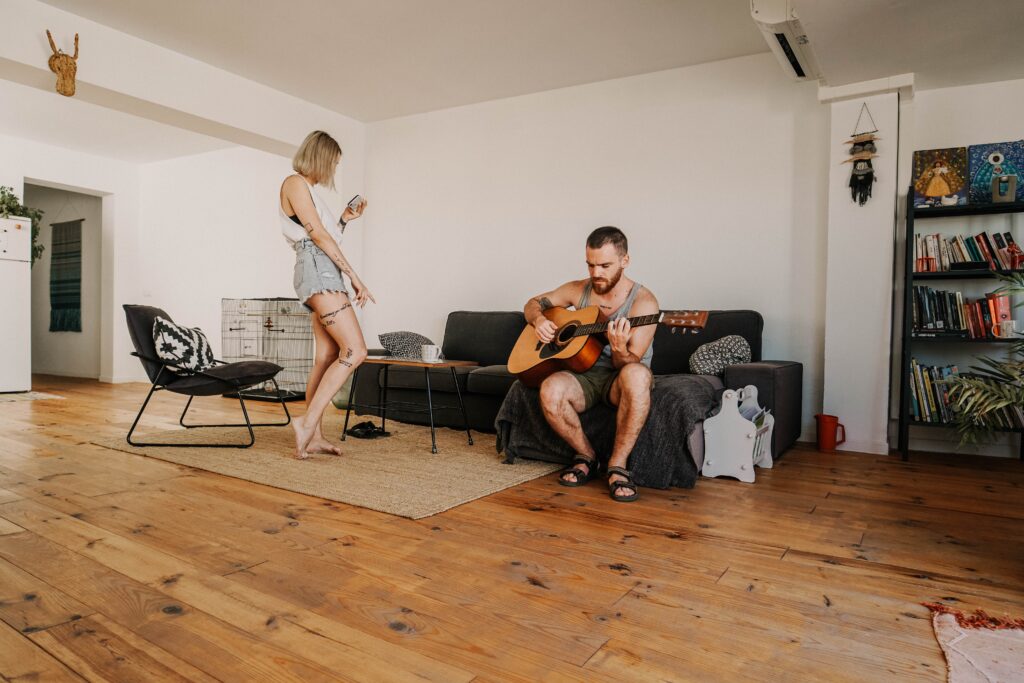 People love the variety that is offered when selecting this type of flooring. Given that it is "man-made", manufacturer's are able to offer different finishes. They are available in the most popular wood species today including, Oak, Maple, Hickory, and many others! Depending on the quality, thickness of hardwood veneer, and maintenance, your engineered floors could last forever. Unlike solid hardwood, you will most likely have to replace this type of floor as majority of them can not be re-stained.
Luxury vinyl tile and engineered vinyl tile
Luxury vinyl tile and engineered vinyl tile have really taken the market by storm in the last decade. It is far cry away from what some may remember being sheets stamped with fake tiles.  Vinyl flooring lets you transform any room with realistic and durable designs inspired by wood, stone, ceramic. The luxury vinyl tile is made up by a thin layer of virgin vinyl that's covered with a high resolution image and sealed with a wear layer that provides it's durability. Engineered vinyl tile provides an extra layer of strength creating a stronger surface to protect against wear and tear. 
Given the advancements done in adapting this material, it's now used in many luxury homes too! It's very common to see this in $1 million + homes because of it's design capabilities now offering bevels, non-repeat patterns, and other special touches. Both of these alternatives are being put into homes all over because of it's resistance to stains, scratches, and wear. It's waterproof, and super easy to clean.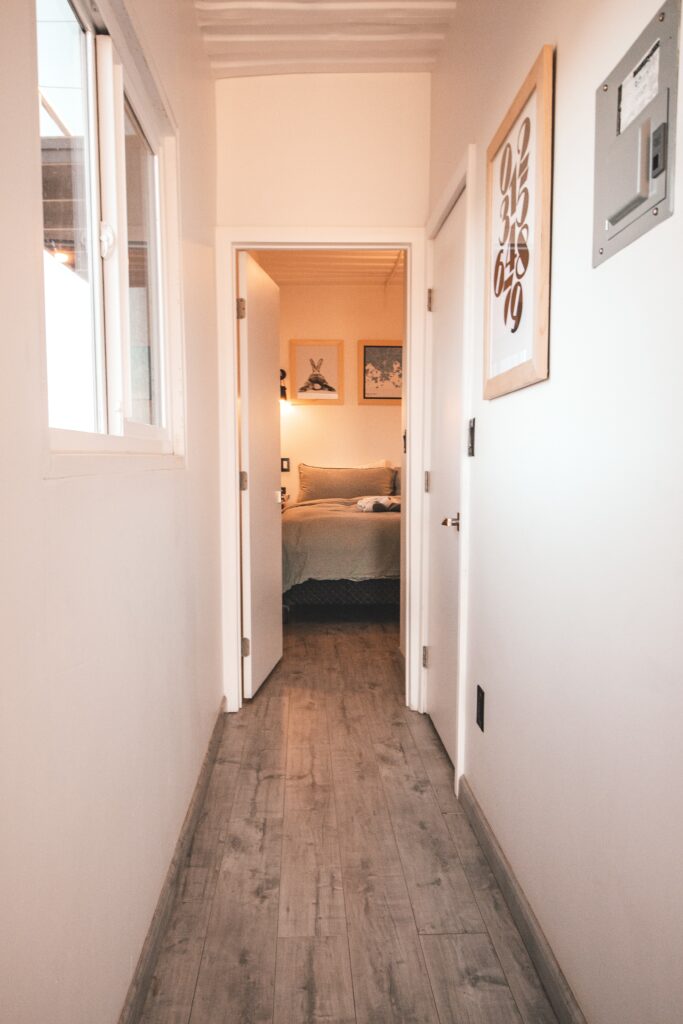 Up until more recently, if you were going to tile it would most likely be a marble ceramic or porcelain. Today, while marble looks are still in high demand now wood-style tiles are right up there in demand too. They are great because they are naturally waterproof and resistant to mildew and mold! Similar to vinyls, porcelain and ceramic flooring have been regarded as the best fits for areas like bathrooms, kitchens, and other locations that more than likely attract moisture.  Wood plank tiles are available in almost any wood species you could need, and are increasingly being brought into main areas of the home for this reason. 
When the budget allows, most will almost always opt for solid hardwood flooring. Its major advantage is that it can be sanded and refinished many times over the course of its lifespan. A close second is engineered hardwood. It is popular for its durability, variety, affordability, and low maintenance. 
Luxury vinyl flooring is making new strides in the marketplace, it's extra layers make it an awesome alternative for strength and resistance to moisture. It's diversity in looks, colors, and finishes make it a top choice for many homes to achieve the perfect aesthetic in the home. 
Lastly, wood-style tile is a great alternative. Once only used in wet areas like bathrooms, kitchens, or basements is being used throughout the home. You can find it in main living areas now because of advancements made in it's look and feel. Wood-look tile are available in many colors and sizes, and provide a worry free environment for mold or mildew.
Contact the office today to learn more! Follow more tips and trick on our Facebook Page. 
Looking to replace your Illinois flooring?
Call today to learn what option is right for your project!